Hello Dockside friends! We have the results from the qualifications for the Karaoke World Championships!  Also, the Karaoke World Championship Provincial Finals have concluded, and we have the results of the Dockside singers going to the Canadian National Finals!
Dockside's KWC Canadian Finalist standings:
JADIE and KENDRA 2nd Place Female Duet in Canada!
RENELL DONEZA 6th Place Male Solo in Canada!
JADIE HUNT 6th Place Female Solo in Canada!
Dockside KWC Provincial Winners that went to the Canadian Finals:
CHARLENE RIEDLER
JADIE HUNT
KENDRA KLASSEN
MARK NORRIS
RENELL DONEZA
VIJAY VERGHESE
DOCKSIDE CHAMPIONSHIPS - OVERALL WINNER AND CROWNED 2017 DOCKSIDE KARAOKE CHAMPION:
KENDRA KLASSEN
TOP MALES:
1. MARK NORRIS
2. JIMMY BUENA
3. RENELL DONEZA
4. VIJAY VERGHESE
5. JOE SILVAGGIO
TOP FEMALES:
1. KENDRA KLASSEN
2. JADIE HUNT
3. CHARLENE RIEDLER
4. SHANNON NIEHAUS
4. BRENDA DIRK (unannounced)
5. NAVA KIARAS
(There was a data entry error, and unfortunately that meant that Brenda Dirk was not announced as a finalist on competition night. Our apologies. She was tied for 4th place.)
TOP DUETS GOING TO CANADIAN FINALS:
1. JADIE HUNT & KENDRA KLASSEN
2. NAVA KIARAS & JOE SILVAGGIO
MUSIC VIDEO WINNER:
JADIE HUNT
(2) WILD CARD SELECTIONS BASED ON MARKS FROM SEMI'S AND FINALS:
BARTHA HARTMAN
DOUG POTTER
---
CONGRATULATIONS ON QUALIFYING FOR THE KWC PROVINCIAL FINALS
This is to provide you with a few more details about the KWC Provincials Finals at Deerfoot Inn & Casino on August 5 & 6, 2017.
Please note:  If you are booking a room a Deerfoot Inn & Casino, the promo code provided of GKARPROV is valid ONLY until WEDNESDAY, JULY 26th!!
Singers will need to be prepared with a total of THREE songs for the weekend, and the time limit is 5 minutes for each song.  Songs that you sang to qualify CAN be used if you wish.  Everyone is guaranteed to sing TWO songs, and the top 18 men and 18 women will be asked to sing a third song to determine the top ten men & women, plus a fan's choice of each, who will move forward to Nationals (August 30th - September 3rd)
The weekend will be scheduled as follows:
Friday, August 4th: Early registration from 9 - 11 pm - in the Cactus Lounge, where karaoke will be running from 9 pm - 1 am.  This is NOT mandatory!
All singers will be divided into three groups - "A", "B"  and "C", with up to 20 competitors in each group.
            - Group "A" will sing at 2 pm and 9:30 pm...both on Saturday
            - Group "B" will sing at 4:30 pm Saturday and 2 pm Sunday
           - Group "C" will sing at 7 pm Saturday and 4:30 pm Sunday
The Grand Finale will begin at 7:30 pm on Sunday evening.  All competitors should be ready to sing their third song, as no prior announcement will be made.
ALL of the events will take place in the Chrome Showroom at the back of the Casino.  All competitors and spectators MUST be at least eighteen years of age.
Remember - ALL THREE songs will count in determining the final placements!! 
A quick reminder of the scoring format
            - 10 points for voice
            - 10 points for technique
            - 10 points for artistry
            - 10 points for stage presence
KWC will need your song selections no later than Wednesday, August 2nd; however, you may email them at any time. 
Thank you,
Susan Cook
KISS Productions
---
Here are the Dockside Karaoke World Championship Winners! 
Anthony Chubb
Charity McFetridge
Charlene Riedler
Cindy Eisman
Jadi Hunt
Jason Beck
Jessy Mossop
Kendra Klassen
Khaled Rahime
Kyle Morris
Lindsay Sucré
Renell Doneza
Ryan Kiers
Shannon Niehaus
Themesa McKeen
Tyler Pinsent
Here are the winners from Dockside's second annual Dockside Karaoke Championship Competition in 2016!
The amazing performers this year made us proud!

Dockside Karaoke Champions for 2016:
1st Place:
MALE: Kyle Morris 
FEMALE: Jessy Mossop
DUET: Jadie & Kendra
2nd Place:
MALE: Renell Doneza 
FEMALE: Jadie Hunt
DUET: Lindsay and Cindy
3rd Place:
MALE: Khaled Rahime 
 FEMALE: Charity McFetridge 
Dockside's winner from last year is also eligible to compete again this year in the Canadian National Finals due to her placement as
2nd place in Canada in 2015:
Laila Bellony
* in order to enter and successfully compete in the Karaoke World Championships, it is up to the competitors to comply by  these "Conditions of Entry" of the host organization (KWC):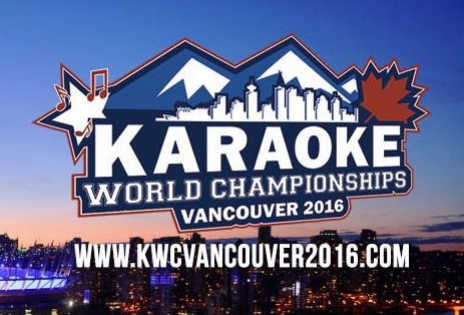 ---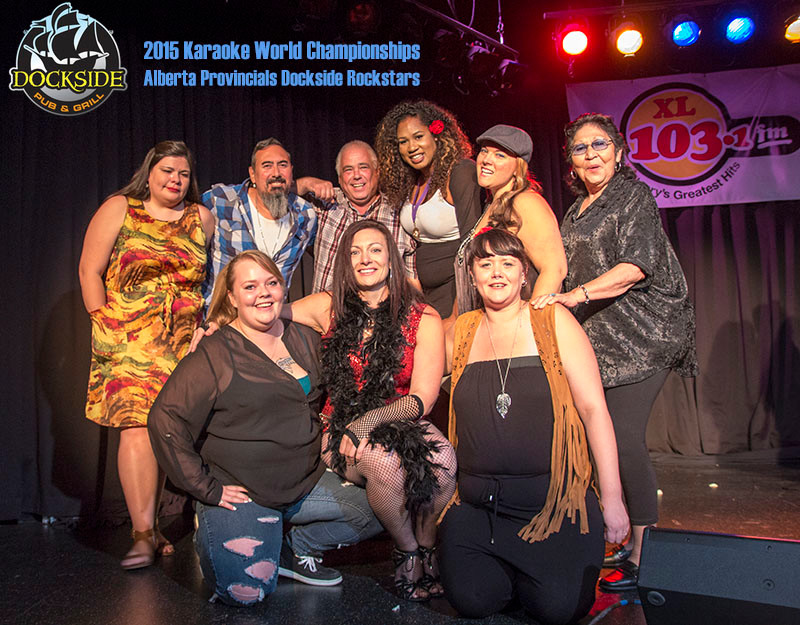 ---
The Karaoke World Championships (KWC) is the largest and most prestigious international karaoke competition in the world. Regardless of race, nation or religion this multi-cultural international music event brings together singers from all over the world in the spirit of music, entertainment and fun. KWC is the opportunity for aspiring singers from all walks of life to perform on a world stage.
Our national champions exclusively represent Canada at the Worlds each year. Participating nations are selected and sanctioned based on a number of quality standards.
2015's World Champions hailed from Singapore and Canada.  Congratulations Elsaida Alerta!!!!  You done us proud now let's do it again!!!
The top male & female singers from the Canadian Nationals will represent Team Canada at this year's Karaoke World Championships (http://www.karaokeworldchampionships.com/) in Calgary, Alberta, Canada.  
ANNOUNCEMENT: Imac Management will again sponsor the 2016 World Karaoke Championship qualifying finalists at the Dockside Pub & Grill!  Imac Management will sponsor the top five winners of Dockside's Karaoke Championship competition and provide them with complimentary mentoring to assist them with their travels to the World Karaoke Championships for the Canadian National Finals, and the Finals in Vancouver, BC, Canada!
This mentoring will consist of time in a recording studio with a vocal coach, as well as mentoring on stage presence by a choreographer. iMac Management is owned by Irma MacPherson, an expert in the field of talent acquisition for K-Days and the Big Valley Jamboree. (She just also happens to be the head judge for the Dockside Karaoke Championship).
Go here to see videos of past world champions, or for more information.  The Canadian site is here.
---
Here are the Finalists from Dockside's first annual Dockside Karaoke Championship Competition in 2015!
The winners went to the Alberta Provincial Karaoke World Championships and did us proud!

Dockside Championship winners
Platinum Winner: Dockside Karaoke Champion for 2015:
Laila Bellony
Gold Winners:
Katelyn Wheeler 
Clarissa Fehler 
Silver Winners:
Natalie Duncan 
Charity McFetridge 
Rounding Out the Top 10 (Alphabetical Order):
Gerald Bleau 
Cindy Eisman 
Larry Gladu
Dawn LeBlanc 
Lindsay Sucre
All contestants will be judged on the following 5 criteria:
Voice And Sound Quality
Rhythm and Tempo
Vocal Expression
Stage Presence & Charisma
Entertainment Value
---
Important notes
In order to compete:
One time only Registration Fee of $20.00 must be paid prior to audition time.  Register on audition dates or at Eventbrite.


You must be a solo/duet amateur performer to win the grand prize.  (An amateur is someone who makes less than 50% of their income from singing).

You must not have been an employee or contractor (or be a direct relation to such) at Dockside Pub in 2016.

Full rules for the Karaoke World Championship are here.